If you come to Las Vegas for the First time, you would be in such an awe with all the glitz and glamour of the Strip. Even in broad daylight, you can already see how hotels along the strip showcase their unique exterior designs that prominently distinguish one from the other.  Known as the casino capital in the US, hotels main attraction to lure local and international tourist alike, are there astonishing hotel attration may it be exterior or interior designs that most tourists don't make a pass on seeing.
I have been to Las Vegas couple of times for our anniversary and a day stopover before our flight to the Philippines. The lights of the strip from the glimmering and fancy hotel lights gives you a welcoming feeling. Day and night, you can see a traffic of cars and people all over the strip for whatever trip their trigger in Vegas. Take a glimpes of the places in Vegas and their stunning hotel architectural design that I captured the my ca
MGM GRAND:
The usual venue for Filipino Famous boxer, Manny Paquiao, MGM 's distinctive design is the golden lion brass statue in the middle of hotel. One thing I can't ever forget about this hotel though, was that it took us abuot 30 minutes just to locate the elevator going up to the room coz I can't understand why you had to go through a dim-lit bar to ba able to use the hotel elevator going to the rooms. There are elevator where you can use going outside the hotel which you can either take an excalator down or use the skybridge that connects the hotel to other side of the street. It takes a  little getting used to before you can get the hang of it of where you're exactly are. This is hotel is so HUGE you might pay attention to the receptionist once she gives you instruction going to your room. Below is the photo taken during the Pacquiao- Mosley fight.
2. EXCALIBUR :
Just when you get out of the MGM, across the street is this magneficient structure that brings you back to where you like prince and princess, kings and queens:) This castle structure hotel captures the children's heart that I think when parents bring their kids with them, this must be their choice. We haven't stayed in this hotel but this is already listed on my bucket list. Get out during the day, and you it will take your breath away. Get out and take a glimpse of it during the night, and you would like to change your mind about staying in this hotel instead.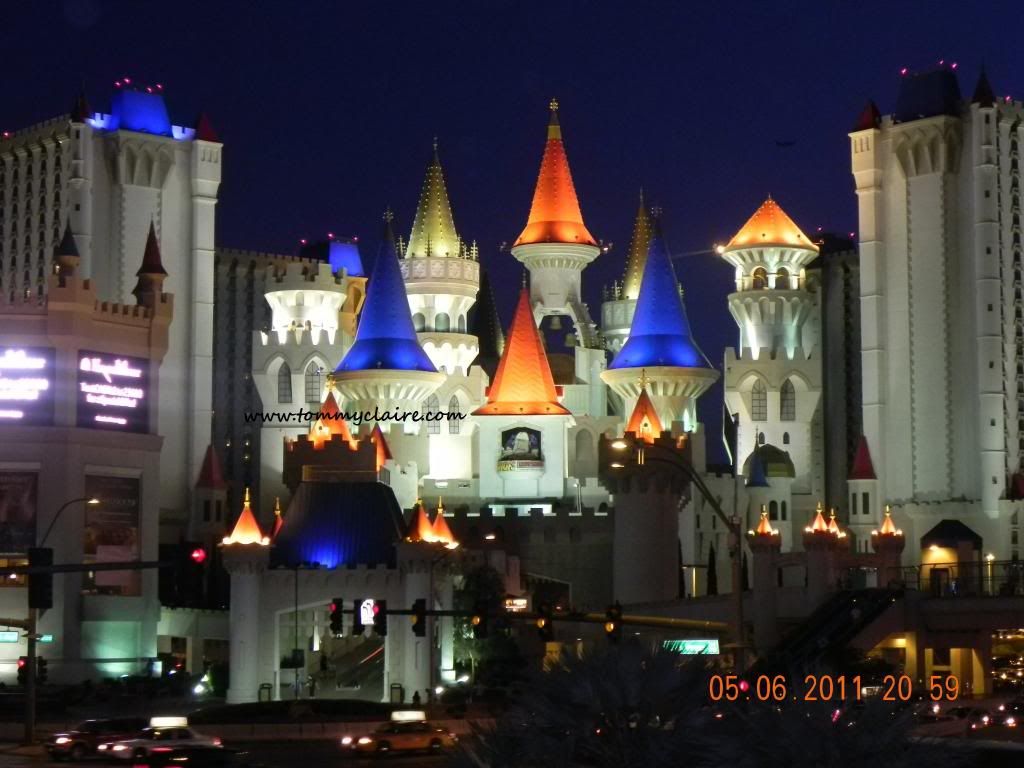 BELLAGIO:
Because of the hotel's main attraction which is it's dancing fountain, Hubby wanted us to stay for the night in Bellagio so we don't have to be walking too far on a very cold temperature at night. When you get into this hotel, you can't miss the ceiling attration in the lobby. The dancing fountain is on every hour if I may remember and you will surely be getting your camera ready as it starts dancing and waving with the music. When you want to see the dancing fountain, make sure you get a really good spot so you can have get a great view of it.
When you get into the hotel to check in, you can't surely miss this beautiful ceiling atraction at the lobby. IT is very colorful and you can't help but take a snap of this beautiful ceiling.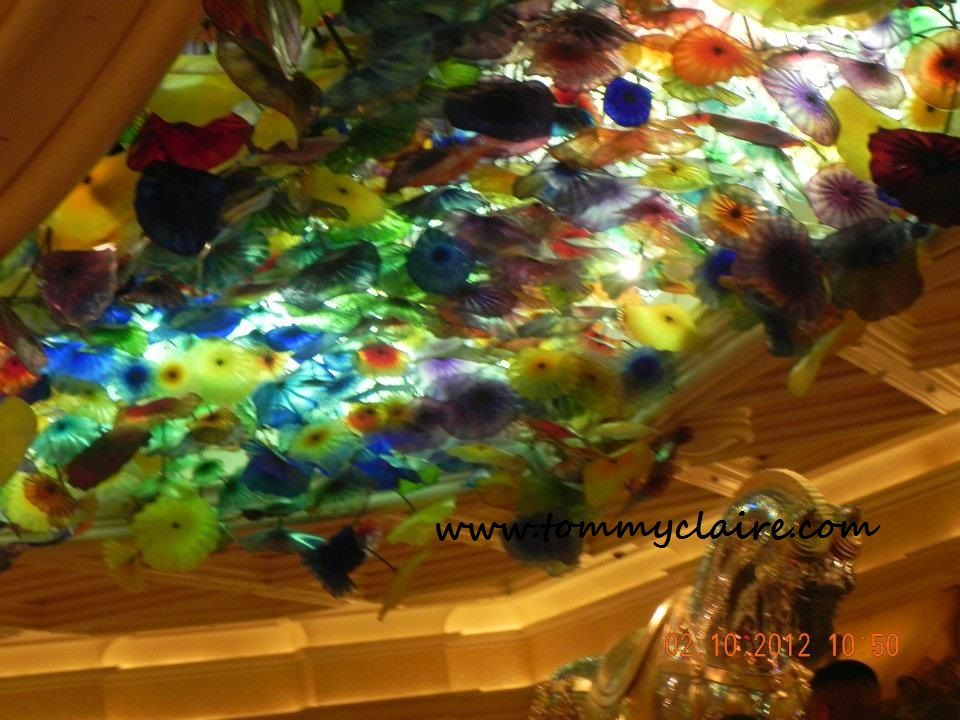 THE COSMOPOLITAN: Alongside the Bellagio is this cozy, and by the looks of it, an expensive hotel. The cosmopolitan las vegas gives you a luxury feeling that even I have no idea how much a night stay would cost. But when you want to stay in this hotel, you would want to wait for the off-peak season to get a good deal on rooms. Below is the photo I took from our hotel window. When you go inside The Cosmopolitan, you can see lots of great dining restaurants, signature shops.
But one thing that caught my interest is their crystal ceiling hanging above at the lobby.Bear with the blurry of the picture I took
This is HUGE and to think how they hang this thing is beyond me. When you plan to stay here, never miss this glitzy lobby attraction they have:)
What's supposedly Pico de gallo became salsa when I blended it a little too long in the blender. Most of the ingredients like the tomatoes and the jalapenos were fresh from my garden. My husband loves pico de gallo so I thought of chopping green chillies we bought from New Mexico, jalapenos, onions and tomotoes. I chopped them by hand and the husband wanted me to pulse it in the blender to give it a juicy taste. But when you get carried away with it, you'll end up having a salsa!;) Oh well, atleast it doesnt go to waste. Mind you, this salsa for sure is way too hot so I need to blend it again with lots of tomatoes I still have in my garden so this will still suit my taste for salsa.
Out of all the band player that impress me the most, I always take a glance at the drum player. I don't know I am just impressed about the speed and the precision about it when hitting drums and cymbals and make a good music out of it. It gives a live feeling among all the instruments. I recently watch a live concert just a few months ago and boy, how magnificent it was! The drummer of course, played it so well with all the drumset and all kinds of cymbals of different sizes. It must be a  Sabian AAX Omni Ride 22″ at musician's friend because those cymbal look so big but gives out a beautiful sound.
We do have a drum set which was a birthday present from my hubby to his older son. But because we are not so into drum playing, it just set there in the room and every once in a while my little son mess with it. Maybe someday, we can put it all together in a right set up where he can play with it and get so interested with drum playing. I tell you, those who knows how to play drums are very impressive and very talented because it is not for everybody and that is a talent that some people are just so gifted with.
This is how my garden looks garden looked like when we got home from our mont vacation to the Philippines. I was kind of disheartened to see those careless weeds so carelessly growin go about 8 ft tall. It's crazy how they can grow so bigger and towering  over my veggies in the row you can't even see them.  I left this garden with much care and I didn't have this much of a weed growing around. I set up a sprinkler system around the plants hoping I can still get some produce when I get home but I just so overwhelmed how the weeds took over the place!
Luckily though, I did get produce and just so sad how most of them just got rotten on the ground and the person we entrust our house and our garden with, didn't even bother to pick the veggies and give it away to my friend who would have love to have my vegetables. It might take  me a while to clean up the place and probably start a fall garden. I need some energy and insipiration to work on this garden.
My sister-in-law who keeps a garden in her yard came to visit us and she suggested a grass killer to kill the grass but not the plants. I might look for it in the nursery store so I don't have to worry about these weeds. There must be something organic I can use to prevent the weeds from growing in my garden.