If you look into my jewelry box, you will find more blings and jewelry made out of silver. It's gold can be pretty expensive and for someone like me who tends to loose jewelry pretty easy, I would hate to loose expensive stuff and just  waste the money away.
But did you know that silver is not commonly use for jewelry? Silver are one of the raw material for electronic and electric products because of it's composition. Just like gold, silver is also a form of investment to some people.  Investment with silver may either be a physical ownership and investment by buying silver bars. You can purchase silver bar at goldeneagle and they have good inventory of them. You can also invest on silver through a bond or a certificate which you can earn from it but not necessarily owning them. But that depends on how the silver investment performs in the market.
WE have finally shipped 2 balikbayan boxes today to the Philippines and it takes 6-8 weeks to be delivered to the house. It consist of assorted stuff from electronics, clothes, tools and other stuff that I wanna give to my family back home. I hope it gets there in time for our vacation so we can open it ourselves and hand it our to the recipients.  I have used forex before and they are pretty much reliable. Although our previous box was a little bit delayed, it was all because we sent it during the holidays and who knows how many boxes were sent during peak season  you can already expect delays of your shipment.
One thing though that you need to consider sending boxes to Philippines is that you have to use reliable shipping companies because there have been so  many reports of stolen items or worse, missing boxes. I used Forex because they are pretty reliable . A big box cost 120 dollars through Forex and I think that's a reasonable price for shipping stuff irregardless of it's weight as lons as 2 person can handle the box alright. IT would cost a lot more if you used shipping companies like fedex or usps since they are upon the weight of your box.
Our Anniversary is coming up and looking for a present for my husband gets my brain scouring for things he would love to have. I think I am not alone with this delimma because I think you would agree with me that it's hard to find men a present compared to women. Flowers and jewelry would always make a woman's heart jump with joy and men can never go wrong with that.
So now I am beginning my search as to what present my husband would love to have for our anniversary. I always end up buying wallet or costumized items but this time, I want to give him something unique.  I found this blue yeti  USB microphone that records songs directly to computer!  Viola! this would surely be a perfect give for him that I am pretty sure he would love.  WIth this mic that has an analog-to digital capacity to record directly to the computer, I know he will have so much fun recording his music that has long been planned. He's got tons of original composition that is worth recording so we will have a keepsake of all his songs.
Iris is a perrenial flower that can be easily grown when given proper care. They have different varieties that can surely add color and beauty to any flower bed at home.  There is atleast 300 varieties of Iris that can attract butterflies and hummingbirds which even give a lovely sight.  Most common Iris variety is the bearded Iris that we have in our front yard flower bed which gives out beautiful purple and lavender blooms.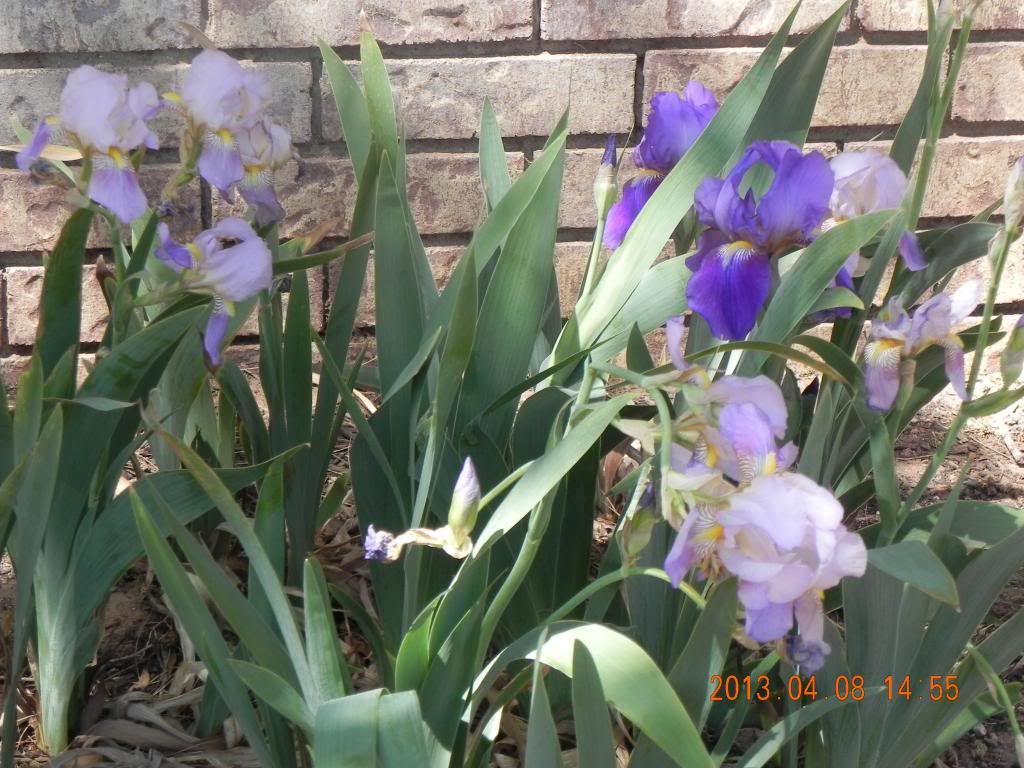 This Irises has been around and was planted several years ago by the original owner of our house. I haven't taken special care on these Iris flowers expect we added up compost soil last year and for some reason, it's blooming like it never was before. Seeing them blooming prompted me to do a little research on how to best take care of them so they will keep blooming like that.
Here are some of the tips I have read:
Iris flowers need a  good amount of sunlight, atleast 6 hours a day. They don't really do good when shaded with other plants so it's best to separate them and have their own bed for best result.

A well drained and fertile soil is what they prefer.
Low nitrogen fertilizer should be used  so to avoid rotting on their rhizomes.
Avoid trimming the leaves because they will be beneficial to itself for the next bloom. But cutting the stalk and the brown tips of the foliaget will help avoid rots on its rhizome.
Replanting it after couple of years would also be good especially when they form clumps so to loosen them up and give more room for growth, replant them.
With this tips, I will just be doing it after flowers wilt and replant them on their own garden bed. I might also look for different colors so to have a lovely bloom for the next season.